During this Sunday's episode of Family Karma, fans saw several storylines unfolding, including rumors swirling about Monica Vaswani and Rishi Karan's relationship.
In true Love U Magazine fashion, we called up our friend — and yours — Bravo TV Newcomer Avni Parekh, and author of self-help book Be The Bigger Person, to get the 4-1-1.
But, before we asked about what's going on with Monica Vaswani and Rishi Karan, we had to find out about Avni's date with Brian (who, by the way, looked absolutely handsome and debonair).
… Here's Our Interview
Love U Magazine: We saw that you replied to a Family Karma fan on Twitter about your date with Brian Benni, saying you had "a wonderful time." Can you elaborate further?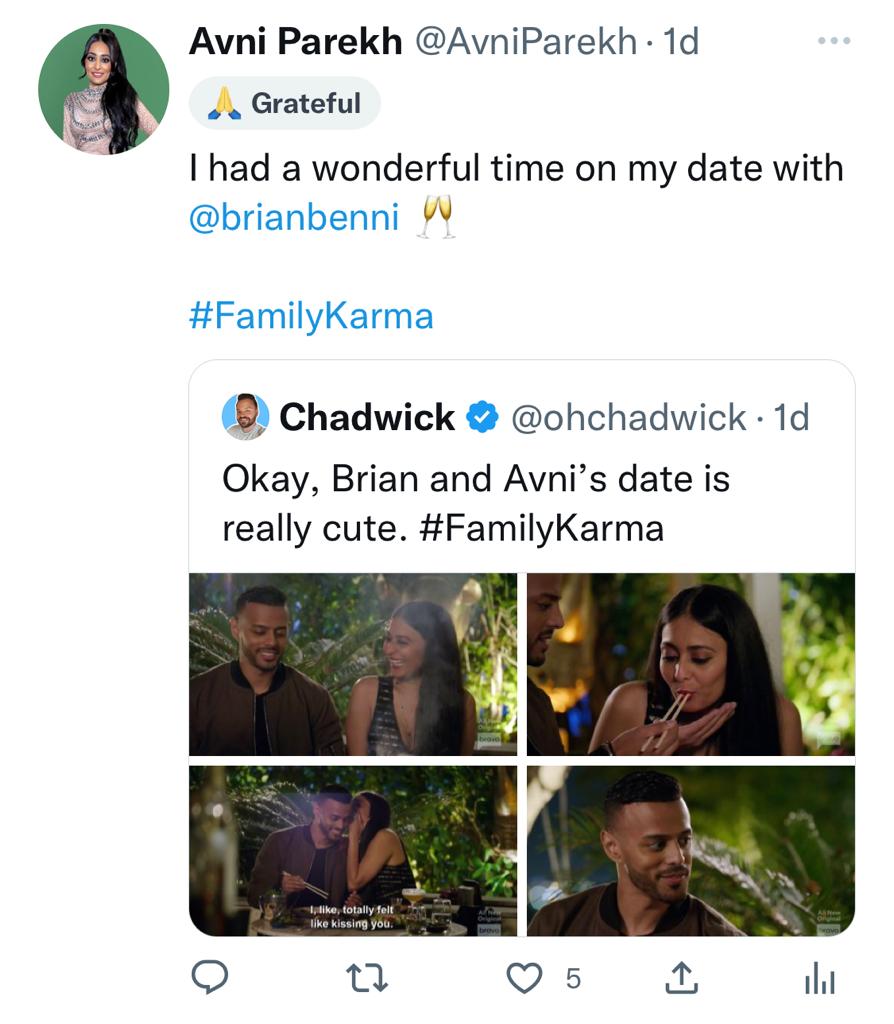 Avni Parekh: Yes, I can certainly elaborate. Brian was a gentleman and treated me like a lady.
For me, the most important factor when I'm on a date is that the man treats me respectfully. I never judge a man by the amount of wealth he has, his title nor his possessions, or his past.
However, I do assess whether I want to be in his company based on the way he treats me.
Love U Magazine: We see that you decided to end your date with a kiss. What made you more open to kissing Brian on your date versus when you were in Mexico?
Avni Parekh: For me, it's so important that I feel a genuine connection with a man that I'm out on a date with.
On my date with Brian, I felt very comfortable with him and in my surroundings, especially because we had an opportunity to have a more private discussion… away from spectators at the wedding.
I mean, you see how quickly a rumor spreads within the Indian community. In fact, when Amrit jokingly gave me his cheek in episode 2, I was baffled that he already knew because I hadn't told anybody about Brian moving in for a kiss.
Though, to circle back, I kissed Brian at the end of our date because I had an incredible time with him. He's very funny so we definitely laughed a lot. Plus, the food and drinks were amazing — it was the perfect setting for us to really connect.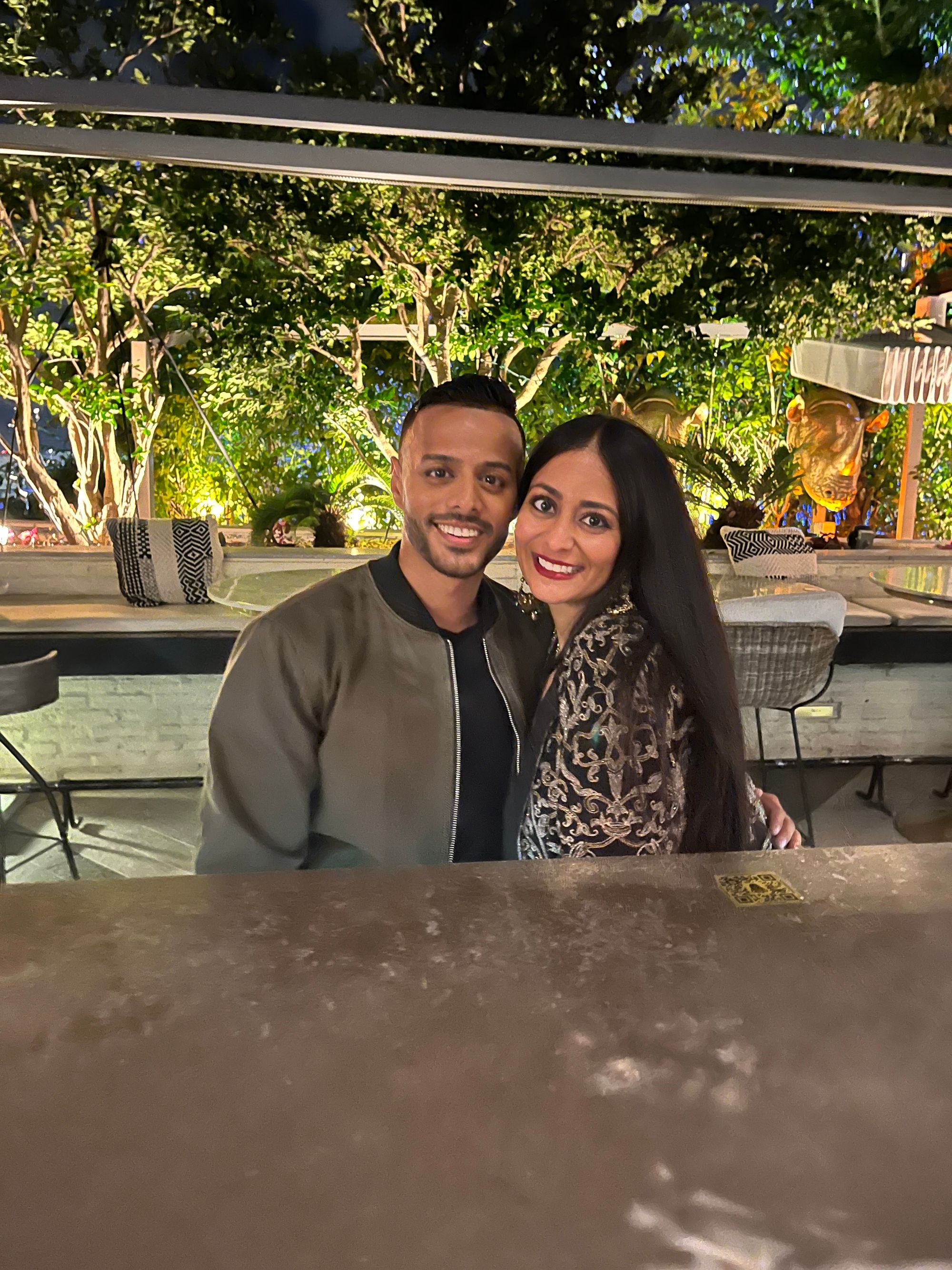 The Rumor Heard Around The World
In Family Karma episode 4, viewers caught glimpses into Monica Vaswani and Rishi "Rish" Karan's relationship. More so, the important conversations that couples have when relationships are serious.
On Twitter, fans were quick to come to Monica's defense. Many shared the red flags they noticed from the brief clips aired on television.
WATCH: Monica & Raj Discussing Her Moving In With Rishi
Love U Magazine: What's going on between Monica Vaswani and Rishi Karan?
Avni Parekh: I'm not sure, but I feel for both of them — this isn't an easy situation to be in. Especially as it's being viewed by millions of people.
Now, I can only speak to my experience. So, I can tell you that Monica is an intelligent, kind, and beautiful woman. Not only that, she dedicates her time to helping animals in need and serving the Indian community.
I wish the best for her and know that she'll be the bigger person and overcome any obstacles that come her way with grace.
Love U Magazine: Well said! Okay, now, we all want to know, did Brian Benni really tell Rish the "rumor" ahead of Amrit Kapai?
Avni Parekh: Honestly, I have no idea or intel on this situation. Sadly, I wasn't present at the incredible drag brunch at R House, and I felt the FOMO after seeing how much fun it was.
However, maybe it's best that I wasn't there, because I can imagine it being a difficult situation for Brian to be in since he's very good friends with Rish.
Love U Magazine: To that point, many Twitter users were keen to point out that Brian should have confided in Monica first, since they have a longer history. What are your thoughts?
Avni Parekh: I can understand how fans on Twitter would question the relationship dynamics between Brian, Monica, and Rish.
In my experience, I find that difficult conversations like this are easier to have between two men or two women, as opposed to between a man and a woman. Oftentimes, these types of conversations are emotional to have, even for the person breaking the news.
So — truth is — it's not my place to judge.
With that being said, rumors being spread about a person's life, and especially their romantic relationship, would be hard for anyone to digest.
I'm sure this rumor deeply affected both Monica and Rish, as well as their families. Then, because information spreads so rapidly within our community, rumors have a tendency to become more salacious than they really are.
Frankly, I'm just as clueless as everyone else, and I'd like to know what really happened… coming from their mouths directly.
Check Out Family Karma on Bravo TV
My loves, I have to tell you, it feels great being able to fill in the blanks when it comes to all the different nuances showcased within Family Karma through our exclusives with Avni. Did you tune into episode 4?
Well, the show is definitely a breath of fresh air and we'll be tuning in every Sunday at 9 p.m. on Bravo TV!
If you too are curious to find out what happens between Monica Vaswani and Rishi Karan, keep watching — the clip of episode 5 looks very interesting.
Plus, be sure to subscribe to our newsletter for the insider scoop on Family Karma.