My loves, did you catch Family Karma on Bravo TV this past Sunday?
Well, if you did, you know episode 3 brought the laughter and aunties together, but we didn't see Family Karma newcomer Avni Parekh.
This definitely made us wonder.
So, in true Love U Magazine fashion, we had to delve deeper and find out what's really going on.
Here's our Exclusive...
Love U Magazine: Why didn't we see you make an appearance in episode 3? And how many episodes will we see you in thereafter?
Avni Parekh: In the four months that we filmed — beginning with Richa and Vishal's wedding and ending with Amrit and Nicholas' wedding — there was one week that I was unable to partake in filming. That's why I wasn't shown in episode 3.
As for the rest of the season, I believe you should see me throughout. Best of all, you'll see glimpses into my private life, which I normally keep under wraps.
Though, I must say, I am looking forward to Family Karma viewers getting a better insight into who I am as a person and how I live my life as season 3 progresses.
Love U Magazine: What do you think of the two younger men, Brian Benni and Rishi Karam, discussing yours and Brian's age difference — and Brian saying, "how old is she again…40?"
Avni Parekh: I find it very interesting to gaze into the normally-private conversation of two younger men and how they view dating an older woman.
Beyond that, I felt my eyes widen when I heard Brian calling out my age. Mind you, even though I tend to say the same, it felt different hearing a younger man bring that factor to light. All in all, no harm, no foul!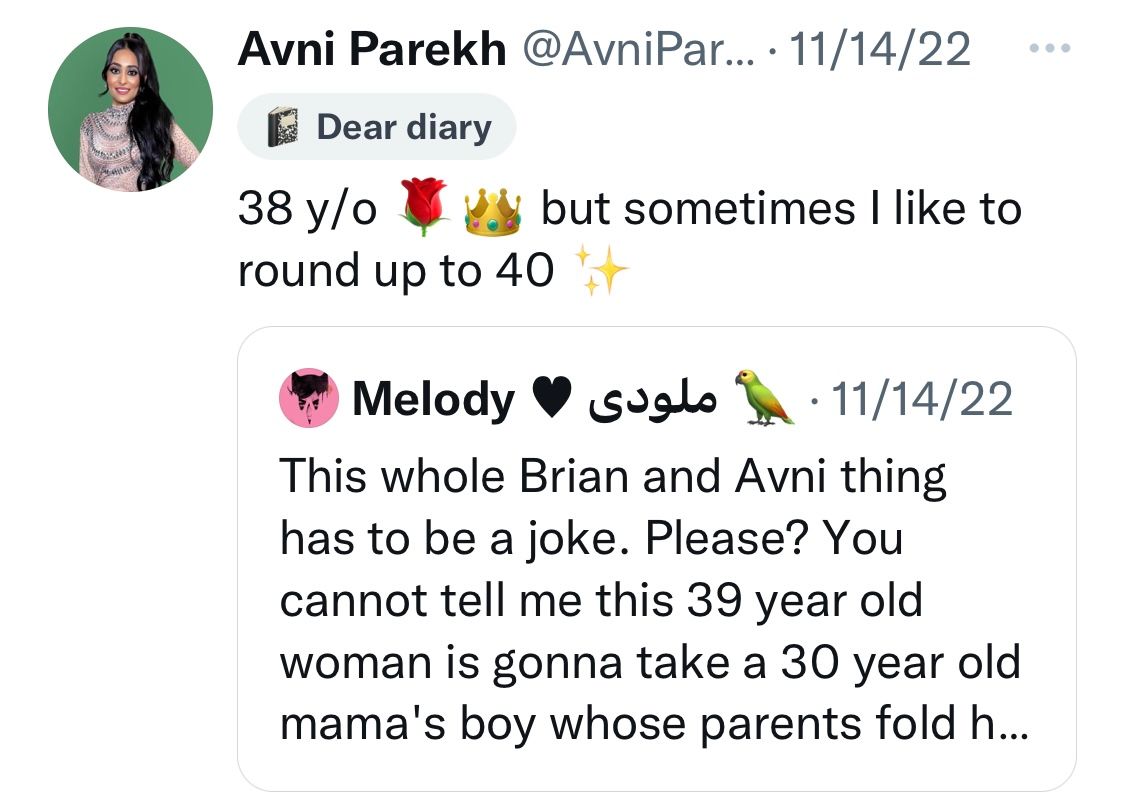 Love U Magazine: What are your thoughts on your blossoming relationship with Brian being compared to Nick Jonas and Priyanka Chopra's relationship?
Avni Parekh: Honestly, I think it's a fair comment to make simply from the age gap that exists between Brian and I.
However, while I do not know Nick Jonas or Priyanka Chopra personally, from my observation of how he carries himself, Nick Jonas seems to have a greater maturity level than most men his age.
With that being said, I can see how he and Priyanka hit it off. Now, as for Brian and I, everyone is going to have to watch the show to find out what happens between us!
Watch a Sneek Peek of Family Karma Episode 4
Love U Magazine: In the sneak peek of episode 4, we heard one of the aunties asking Brian if he was dating you. Then, she followed up by telling Brian, "she wants to get married and have kids; you're freaking 30 years old." What do you think about that?
Avni Parekh: That was Kalpna aunty, and she knows me the longest out of all the Family Karma aunties. In fact, she and her family have known my family since before I was born. I also dated her nephew several years back for about a couple of years.
So, Kalpna aunty speaks the truth when she says, in not so many words, that I am at the point in my life where I'm ready to settle down and have children. Fact is, I can't fault her for saying that; she's has a point, in my opinion.
Love U Magazine: Do you have any issues with Dharma aunty not liking that you're "older" than Brian?
Avni Parekh: No, not whatsoever.
First off, I think that Dharma aunty is entitled to feel the way she feels.
Secondly, she's a woman with life experience under her belt and I think her instincts as a mother are kicking in.
Third, we all know that women mature quicker than men. And, I think if you view the scenario from that viewpoint, it makes sense for a mother to question her son and where his head is at.
---
There you have it, Loves. Do you think Dharma Benni will continue to disapprove of Avni or will she eventually warm up to her?
👆Subscribe to Love U Magazine's newsletter to stay up to date with Family Karma news. Plus, don't forget to watch this hilarious show on Bravo TV every Sunday at 9 p.m.