If you watched last week's episode of Family Karma, you saw the show start in the thick of Amrit Kapai and Nicholas Kouchoukos' fabulous bachelor party. There was a bit of "guy talk" between Amrit and Brian by the pool, and then the scene quickly moved to a very interesting conversation between Avni and Brian at the bar.
Since the opening was ABA (all about Avni), we decided to ring her up and get her thoughts on the episode, and the rest of the show.
But first, if you aren't caught up, watch the clip below to take a peek at the first few minutes of last Sunday's show:
Love U Magazine: What was your take on hearing what Amrit and Brian were talking about while you were in the other room?
Avni Parekh: That's a good question.
I'm aware that some guys speak in this manner about women behind their backs and take conversations out of context to impress their buddies.
What I find interesting thus far is observing the intricacies of bro code, as well as guy talk. It's helped me gain better insights into human behavior, and how the guys talk about me when I am not around.
So, to circle back around to your initial question, I think it's something that happens, just like "girl talk."
In fact, viewers had a chance to see glimpses of girl talk unfolding between Bali and me — which is what led to me talking to Brian at that moment and telling him we should be friends.
He's still very handsome, though; nothing can take away from that.
Brian Benni has the cutest smile on Bravo and I WILL die on this hill lol #FamilyKarma pic.twitter.com/Ersw3mO4nG

— Rick Zhampagne 🇨🇦 🏳️‍🌈 (@RickZhampagne) December 19, 2022
Love U Magazine: Touché, he is indeed! When you were trying to let Brian Benni down gently, he said he doesn't get hurt. Do you think you got your point across?
Avni Parekh: I'm not quite sure, actually. Do keep watching, though; you never know. There could be more to the story.
Love U Magazine: Oh, we will!
A Heartwarming Scene Between Vishal Parvani and His Mom
I love Vishal's mom so much! Such a beautiful soul!! Reshma truly loves him!! And the way she was so open to listen and support him. 👏🏻👏🏻#FamilyKarma pic.twitter.com/7jcCXb2hUh

— MarTEAnis With Eddy (@MarTEAnisEddy) December 19, 2022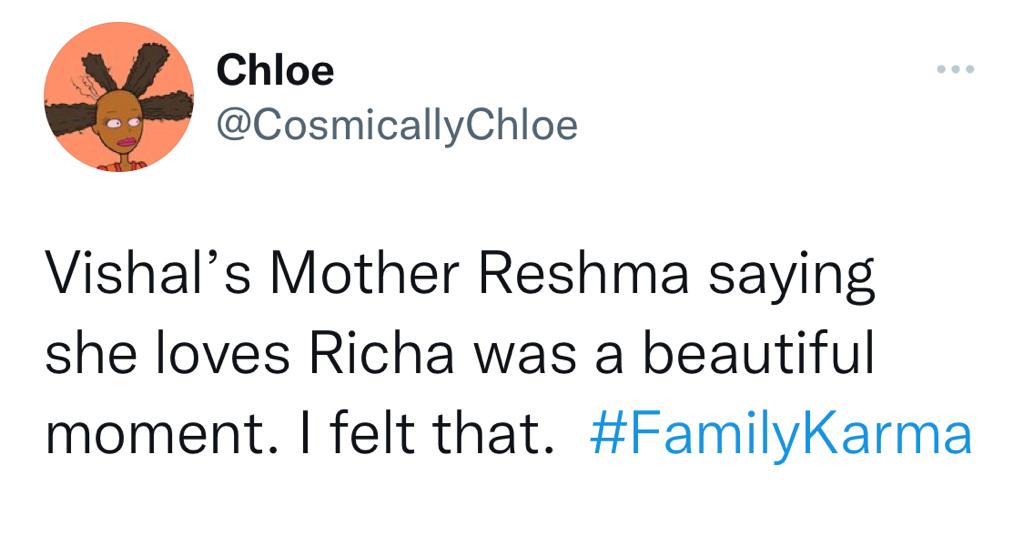 Love U Magazine: Twitter fans were quick to praise Reshma aunty for her advice to Vishal about his drinking. What did you think about that moment?
Avni Parekh: I think Reshma aunty is awesome! She's such a supportive mom, and she radiates positivity and love.
In fact, when I go to Vishal's house, she always fixes me a plate of food to eat and even offers to make me something on the spot.
He's so lucky to have her support, as well as his father's. Come to think of it, Vishal's entire family is absolutely amazing, including his family that lives in Hong Kong.
A Closer Look At The Aunties of Family Karma
Love U Magazine: Unfortunately, clips for this Sunday's episode show drama ensuing between the aunties. Do you have any idea what's going on? It breaks our heart. We love the aunties!
Avni Parekh: Truth is, I have no clue. I love all of the Family Karma aunties and I think each woman is incredible.
Whatever happens, I'm sure they'll resolve their differences by being the bigger person. Or, at least, I hope that happens.
Which do you want to see more of #FamilyKarma

— Xanax Ice Queen (@Xanax_Ice_Queen) December 20, 2022
---
And, there we have it, another great interview with Avni Parekh of Family Karma Season 3 is officially in the bag!
Tune into the "most wholesome show on Bravo" — Family Karma — at 9 p.m. (EST) on Bravo TV every Sunday night.
Subscribe to our Karma Newsletter and be the first to know about our Karma EXCLUSIVES!  We'll send the news straight to your inbox. And, don't worry, we'll only send you Family Karma-related news (you can subscribe separately to Love U Magazine if you also want to get our content).